Mute Science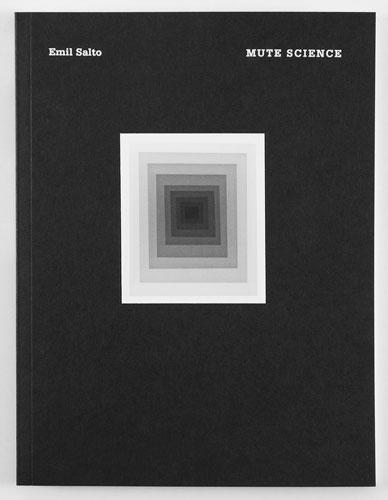 64 pages, ill, Softcover, English
Copies: 500
Format: 16 x 21 cm
ISBN 978-3-86895-192-9
Design: Jeanne Betak
Published by Revolver Publishing, Berlin 2011
Mute Science is an artist book with documentation of three series of photograms by Emil Salto.
Abstracts from essay by Milena Hoegsberg:
At the crux of Danish artist Emil Salto's practice is the tension between a desire for direct experience and a yearning to perceive what is beyond its grasp. ...His body of work from the last decade can be seen as an inquiry into "hidden matter," and the higher level of
consciousness often perceived to give access to it. But his investigation is first and foremost intuitive: anchored in and guided by the physicality of his own body, at work in the artistic process.
...Mute Science consists of black-and-white photograms, images produced without camera, solely by the imprint of light on photo paper. As such, they are their materials. While making the series, the artist turned, as he describes it, a "deaf ear to the exacting science of photography."
Taking the camera out of the equation, he relied on intuition and feel, rather than mechanical tools and automated timing. Enveloped in complete darkness—without the aid of red safe light—he repeatedly moved four individual cardboard pieces, together forming a square, inviting the possibility of "mistakes" as he exposed the photo paper to light.
Deliberately cutting himself off from the faculty of sight, the artist was guided only by a mental image of space. The works are thus both straight records of their making—the most basic photographic process—and images of worlds beyond, conjured in the mind.